Are Australian retailers over-investing in social media?
  |  
November 20,2015
  |  
  |  
TL; DR – yes and moreover they plan to continue doing it. Wonder to understand why and what's wrong with this? Read the rest of this post.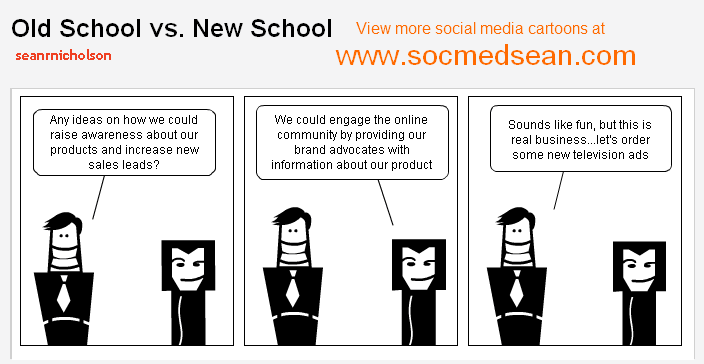 It seems that the guy in the cartoon is a boring old-school laggard who doesn't want to embrace changes. But there may be some truth to his conservatism.
In recent days I came across two pieces of information that headed my interest to Aussie retailers use of social media.
Piece #1. Social Media is overrated, recent talk by Mark Ritson
My MBA marketing professor Mark Ritson was very sceptical about the role of social media in marketing.  See a recent video of his talk on this topic below. It is a bit long but Mark is a great speaker, so I promise you'll enjoy it.
Very short essence of his talk:
Social media is a great invention, but it is for person-to-person communication, not for brand-person. People are not really interested in communicating with brands via social media
Social media isn't very new, but still kind of shiny, trendy and much more interesting than "boring" TV and radio
However TV and radio are still very far from being dead and if you check the share of time people spend they outperform social media
Social media marketing is getting heaps of attention in professional publications, this is one of the reason why marketers jump on the bandwagon and try it hard to invest in the channel.
Another reason is that typical marketer lives in the different world from an average customer – and use social media much more for business
Facebook and Twitter themselves are now focusing on selling highly targeted display advertising,  not social media sharing, dialogue and other buzzwords
Finally, in most cases, marketers will get better ROI from other channels, rather than social media, so it is important to compare apples to apples and do your calculations
It's time for integrated marketing communication
Piece #2. CBA report "CommBank Retail Insights"
Commonwealth Bank of Australia recently released a report based on analysis of 80 million online transactions of 3 million CBA cardholders followed by surveying of 501 retailers of different scale. The report is pretty interesting piece of information, it can be downloaded from CBA website.
Among other interesting facts and insights there is an information about where retail businesses plan to focus their efforts in the future.
Social media is #1 focus area for almost all states (excluding WA). 34 to 53 percent of Australian retailers are going to focus on social media in the future. NSW is leading the pack with 53% or retailers going to concentrate in this area. In Victoria social media is also the leading area with 49% of retailers focus, more than eCommerce, loyalty programs, personalisation, network expansion.
The question
So who is right, marketers of 53% of retailers or Mark Ritson? Maybe my professor is too old school and his arguments doesn't work for online retailers?
I decided to conduct quick research myself to find it out.
Piece #3. Facebook Performance Report Australia. Second Quarter 2015
Here comes 3rd source of information, a report about Facebook use in Australia, published by Online Circle Digital. This report is available upon request from Online Circle Digital website. Page 14 of the report lists the most popular Facebook pages of Australian department and online stores.
There are 20 businesses listed there. I selected 2 retailers from this list:
#1 Black Milk Clothing. They have the most followers
Showpo. This online store has the best engagement rate
The reason of this selection is to take the best from the best.
I did a bit of additional research, the findings are presented in the table below:
| | Black Milk Clothes | Showpo |
| --- | --- | --- |
| Facebook followers, '000 | 700.00 | 506.80 |
| Instagram followers, '000 | 1,000.00 | 790.00 |
| Pinterest followers, '000 | 34.60 | 2.60 |
| Twitter followers, '000 | 40.00 | |
| Youtube subscribers, '000 | 10.00 | 30.60 |
| Total social media followers (thousands) | 1,785 | 1,330 |
| Monthly website traffic, '000 (Compare web) | 310 | 410 |
| Social media traffic share, % | 12% | 6% |
| Social media traffic, '000 | 37.2 | 24.6 |
| Overall social media engagement | 2.08% | 1.85% |
A bit about methodology.
I've counted all social media followers across different channels (at 17 Nov 2015)
I've used the CompareWeb tool to estimate website traffic and share of social traffic for the stores
Then I calculated ratio of social media referred visits per month to total followers
Interesting that for Black Milk Clothes the resulting number is pretty close to Facebook engagement number (2.08% vs 0.85% average engagement rate from Online Circle research). For Showpo Facebook engagement is much higher than calculated engagement. I was intrigued by that and visited Showpo Facebook page. Here are example of 2 posts with very different engagement
Post with cute animals video has 1,332 likes, post related with products just 20. A huge difference.
Don't get me wrong, I am not telling that posting funny pet videos to your Facebook followers is totally wrong for brand. It explains however the high engagement rate of Showpo on Facebook.
Posts from Black Milk Clothes typically much more product related and collect few hundred likes and handful of comments and shares. In my humble opinion 200 likes of the products image is better than 2,000 likes for funny cat video.
A broader data I have access too (Google Analytics benchmarking for mid-market retail businesses) shows that in average online retailer website similar with some of my clients' websites have around 8% share of social media traffic. That corresponds with the data for Showpo and Black Milk Clothes. Moreover social media is not even in top 5 sources of retailer's websites traffic, lagging behind organic search, paid search, direct, email and referrals.
The conclusion
The results of my small research confirms Professor Ritson's point of view. Even for the best brands, social media champions, the interest from people in social media communications from retailers, especially for product related messages is low. Social media is getting much more attention as a marketing channel than it deserves and as a result more efficient channels that can provide better ROI to online retailers suffer. It's time to stop blindly following the crowd and practice cool-headed approach to marketing channels for Australian retailers. I am not calling to stop using social media at all, but give a fair go other channels.
Caveat #1. As a small business owner with quite narrow niche target market I accept that social media marketing may be effective in some cases, moreover I practice it. The point is that it has to go through the same scrutiny with other channels and compete for your marketing $$$.
Caveat #2. There are other completely justified uses of social media than delivering your marketing messages, like answering to customer questions, collecting feedback, responding to disaster, listening to customer opinions.