Dahlsens is a leading supplier of building materials to home builders with over 25 stores in Victoria and New South Wales and subsidiary company serving Queensland and Northern Territory customers.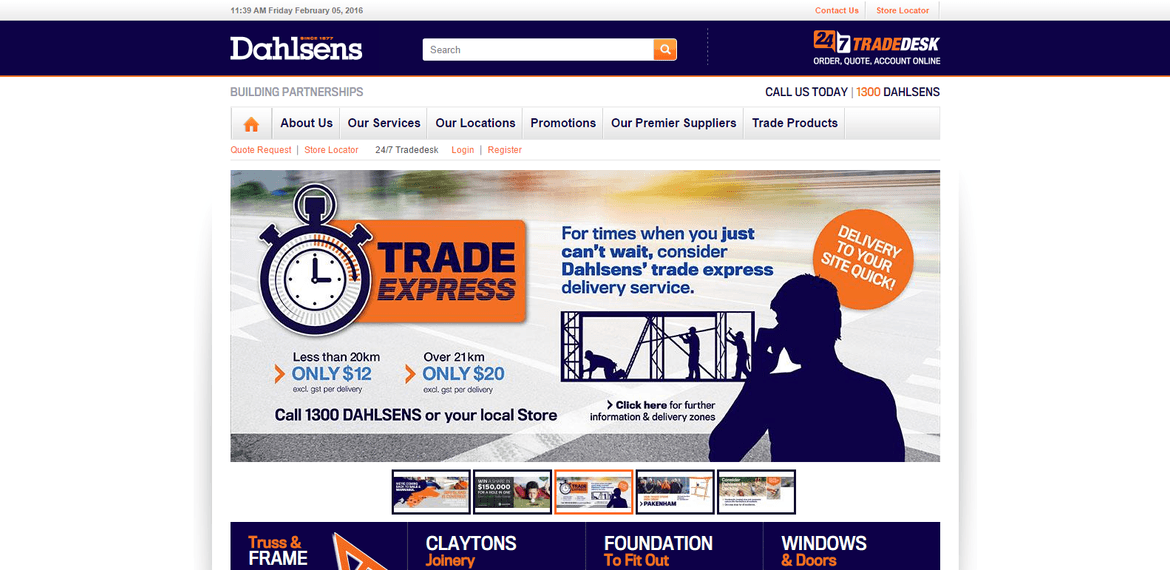 Several years ago the company built an online store based on Magento Enterprise. The analysis of the system shows that Enterprise version was underutilised, as Dahlesens cancelled the plans to sell online to general public, so there was no need for an extensive set of functionality and cost (license) that Magento Enterprise provided.
After extensive consultations with Dahslens marketing and IT teams, Magenable developed a plan to downgrade Magento to a Community version saving all the functionality required in changing business conditions. Magenable successfully implemented the downgrade and provided Dahlsens with over 390% Return On Investment in 3 years.
---
What our clients are saying about us

Fabrice Boucherat
Marketing and Merchandise Manager,
Dahlsens Building Centres
We have worked with several web development agencies in the past. Every time we felt that we were low priority for them and there was no proactive input into our projects. We've been pleasantly surprised by Magenable's approach. We get prompt service. Projects go smoothly.
Most importantly, as experts in the web space, they advise us on the latest tech trends and are not afraid to challenge our thinking. They've also been great at keeping us close to our web analytics and what it means for our digital strategy. I look forward to having many more years of mutually beneficial collaboration with Magenable.

Clare Picot
VP,
Bondi Sands
We couldn't be happier with Magenable's level of service. Alex always feels like an extension of the Bondi Sands team and is always available to help support our business objectives – both from a strategy and execution perspective. No project is ever too big or too small!
Highly recommend Magenable to any business looking for Magento specialists to help scale their eCommerce business.
Kovi Gordon
CEO,
Queen of Tickets
My company recently employed services of Magenable to conduct a full website audit on our site. We could not have made a better investment. Alex first worked with us over a few days to get a thorough understanding of our business and our landscape, which is very often overlooked. The report we received at the end was very comprehensive and really data driven.
Important that the findings were not trivial improvements but were all based on increasing sales or improving security. I strongly recommend this to any business that relies on their website for sales and feel that they are not doing everything to their best of their ability. Alex and his team will surely find many improvements that will pay dividends over and over again once implemented.
Stu McIntosh
Founder and CEO,
Fuzzyard
Alex and his team has been by far the best dev team we have worked with. They are quick, courteous and fully transparent. I couldn't recommend their services any higher.
Thanks for your amazing service!
Ready to discuss your project?
We look forward to hearing from you.
Get in touch